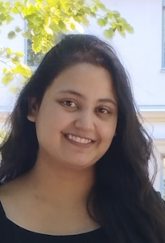 E-Mail: durgesh.nandini@uni-bayreuth.de
---
Durgesh Nandini works as a research assistant in the Data Modeling and Interdisciplinary Knowledge Generation group and is currently a part of the "KONECO" project.
She pursued her Master's in Computer Science from the University of Trento, Italy and submitted her Master's thesis on "Neurogenetic Predictive Modelling of Brain Diseases: A Case Study on Alzheimer's Disease". She did her Bachelor of Technology in Information Technology from Maulana Abul Kalam Azad University of Technology, India.
She has worked in the areas of Natural Language Processing, Artificial Intelligence, Big Data and Semantic Web. In her project, 'KONECO', she will develop graph embedding methods for complex data structures.
Research Interests
Artificial Intelligence
Machine Learning
Natural Language Processing